MHS2003
2003 International Symposium on Micromechatronics and Human Science
Oct. 19-22, 2003

Symuposium Site Maps
Access to Nagoya, Japan

Nagoya International Airport offers direct flights to Frankfurt, Seoul, Pusan, Taipei, Beijing, Hong Kong, Singapore, Honolulu, Detroit, Los Angels, as well as to other cities. Please consult an airline company or travel agency for your routing. Nagoya International Airport also offers connecting flights to Narita International Airport. Express buses between Nagoya station and the airport run every 20 min and take around 30 min.

The Shinkansen super express (bullet train) connects Nagoya to Tokyo (1 hour and 40 min) and to Osaka (40 min). Transportation from Narita International Airport to Tokyo station is available via JR train Narita Express (1 hour) or via non-stop limousine service (1 hour and 40 min.). The JR express train Haruka is available from Kansai International Airport to Shin-Osaka station (50 min), where passengers can transfer to the Shinkansen super express.

Nagoya City Science Museum

Subway: Higashiyama Line or Tsurumai Line, Fushimi Station (No. 5 exit, about 5 minutes walk toward south direction)

Location of Fushimi Station can be found in the map bellow.
Nagoya City Science Museum is located in Shirakawa Park.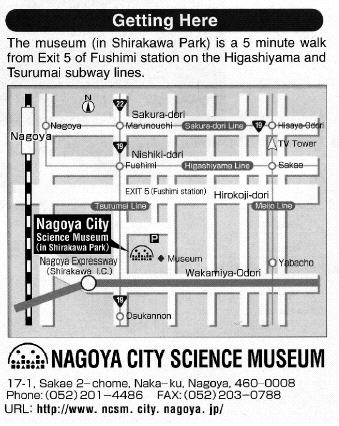 Nagoya Municipal Industrial Research Institute

Subway: Meijo Line (for Nagoyako), Rokubanchyo Station (No. 3 exit, a few minutes walk)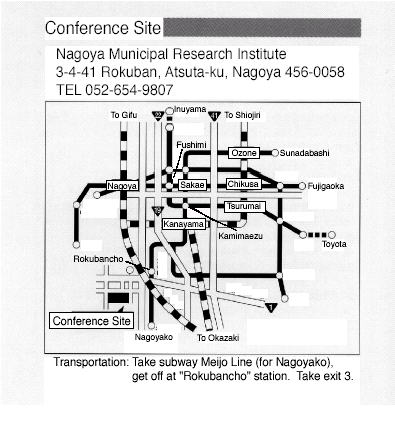 Nagoya Institute of Technology